A Salon Experience Worthy Of You!
A San Diego Award Winning Top Ten "Best Salon"
Quality services to fit any of your Hair and Nail needs. Our experienced staff will help you determine the best services for your needs and deliver the kind of quality and value you expect from a professional salon.
Our location and staff members will make your experience both comfortable and enjoyable. We promise you'll leave feeling refreshed and inspired!
Please note: Service prices and availability are subject to change without notice.
Hair Cutting and Styling
Our Stylist use the best haircutting techniques for your specific hair type. Including, point, blunt, razor, slice or clipper.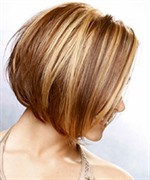 Professional Hairstyling For Women
$45 ~ $58
Get that sharp and polished look with a professional styling service from our talented staff. We can help you arrive at the look you want to achieve and deliver a flawless style with clean lines and layering. Whatever your style is, we can help you find a look that will complement your wardrobe and help you make maximum impact for that big meeting or special date.
Return to Top
Service Policy
We recommend booking your appointment in advance, please call (760)740-2264 to schedule.

Walk-ins are always welcome although may be subject to availability.