Learn More About...
Now Hiring Hairstylist - Cosmetologist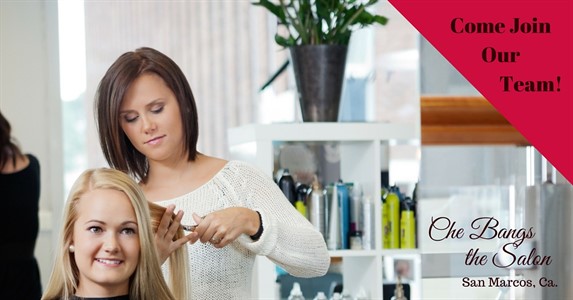 Now Hiring, Full-time Hair Stylist
Full-time Hair Stylist 32 to 40 hrs per week
Join A Talented Team Of Fun, Hard Working And Successful Salon Professionals.
Stylist should be proficient in all aspects of Cut, Color, Highlights, Blonding. Finish & Event Styling and have Three or more years of experience.
Come build a rewarding career at Che Bangs the Salon!
Awarded San Diego's Best, and a Top Ten Salon. You can be a part of this winning Team!
Serving Escondido and San Marcos area residents, the Salon offers great value and opportunity for a Stylist looking to expand her career.

Che Bangs the Salon GUARANTEES your starting income, providing a guaranteed base pay and a responsible and consistent schedule. We do this to help our staff maintain a stable income while building a Clientele. In addition, we provide a very generous commission scale, the Salon returns up to 70% to reward our Team Members for their great efforts!

Che Bangs provides great access to New Clients through Continuous Advertising and Salon Promotions!
Building a successful career as a stylist requires much more than an ability to do hair. Che Bangs offers an excellent opportunity for salon education, providing continued training in Color, Color Correction, Highlight Foil and Balayage techniques. In addition, we train all staff members with the best Retention, Re-booking, and Client building strategies.
If you're looking to expand on your current success or looking towards building a better future,
Che Bangs offers an exceptional and rewarding opportunity!
We're a California Equal Opportunity Employer. Our Staff members are all Employees and enjoy all of the benefits of being an employee and the income that most Salon Suite and Booth renters only dream about.

What can you expect as a Stylist at Che Bangs?
Stability, Opportunity and Growth
Continued Professional Education.
A Drama Free Atmosphere And A Supportive Team.
Rewarding Commissions On Services And Retail Products.
A Clean, Modern And Upscale Salon With A Great Reputation.
We Have An Established And Loyal Clientele To Get You Started.
New Clients? Our Salon Is In Demand And You'll Have Plenty Of Opportunity!
Paid Vacation, Paid Sick Leave And Secure Employment.
Salon Paid Promotions And Client Loyalty Rewards.
Trade Show Participation And Manufacture Training And Certifications.
A Supportive Management Team, Leading You With Dignity And Respect!

Must have...
Valid California Cosmetology License, and a minimum of 3 years experience.
Must be honest, hard working, dependable and committed to excellence!
Must be Professional in appearance and play well with others!
Must be willing to work as a team and protect our Image and Reputation!
Must be willing to work and maintain a consistent 32-40 hour week schedule.
Most Importantly, You Must possess an Attitude, Drive and a Discipline to be the "BEST"!

Salon Owner Tonya Turner Is An American Board Certified Colorist and National Educator. Tonya has shared her knowledge and leadership with hundreds of salon owners and stylists nationwide.
We will help you to reach your full potential.
Education, Dedication, Responsible Customer Service and Consistency. These Values Create, Both Success And Freedom.
Join our team and enjoy the Career that you've dreamed of having!

Building a Career and a Clientele requires time, effort and consistency. Che Bangs the Salon has developed an environment to insure our Staff Members a rewarding career!